Beekeeping Supplies
We carry top quality beekeeping supplies. If it is needed for bee's we carry it in stock or can order what you desire. We have everything a beekeeper needs including wooden ware, foundation, containers, medications, books, bee suits and extracting equipment. We stock a limited amount of extracting equipment but can order anything you desire from several supply houses. And any bee shop provides lots of advice and personal experiences free.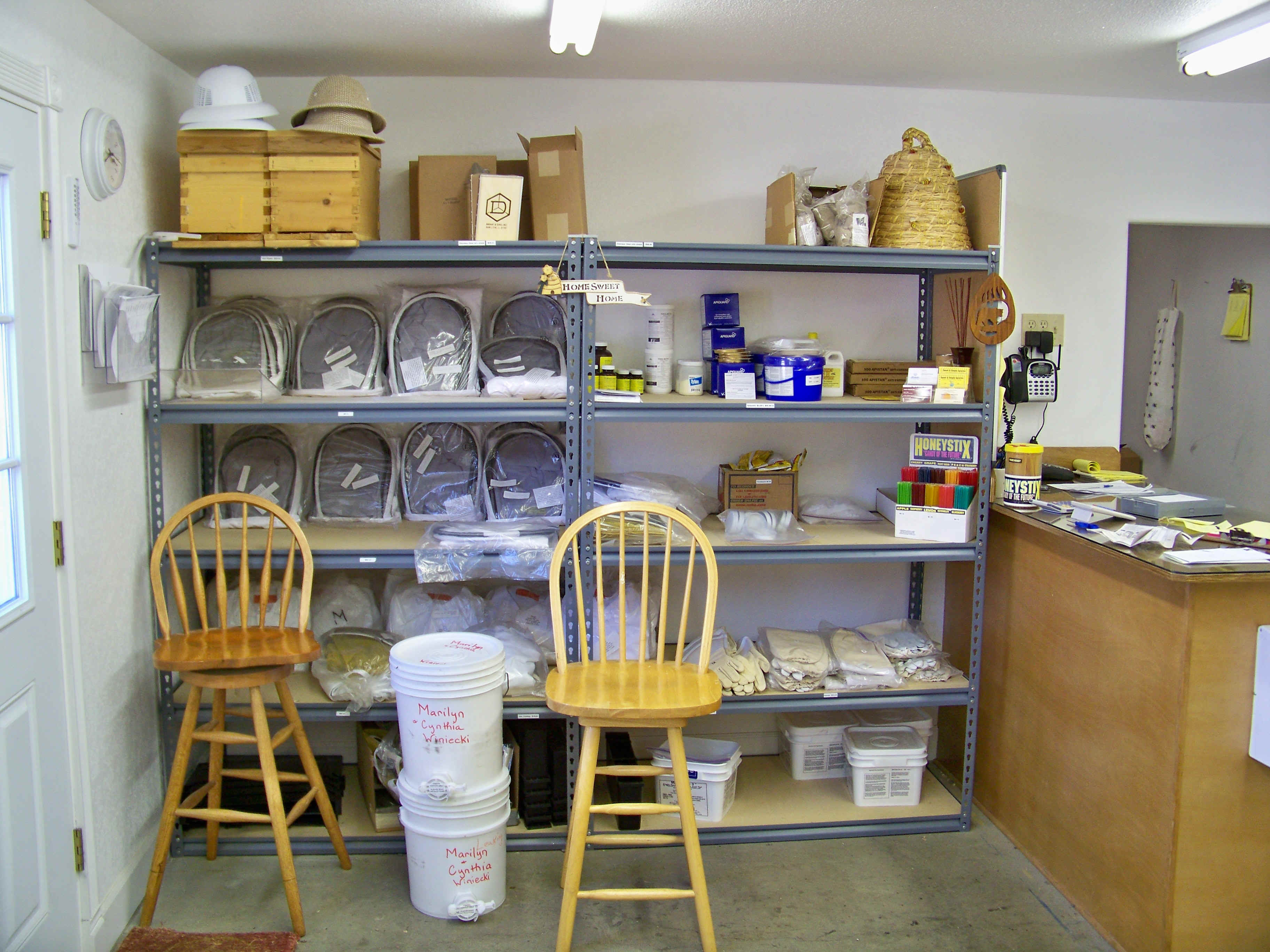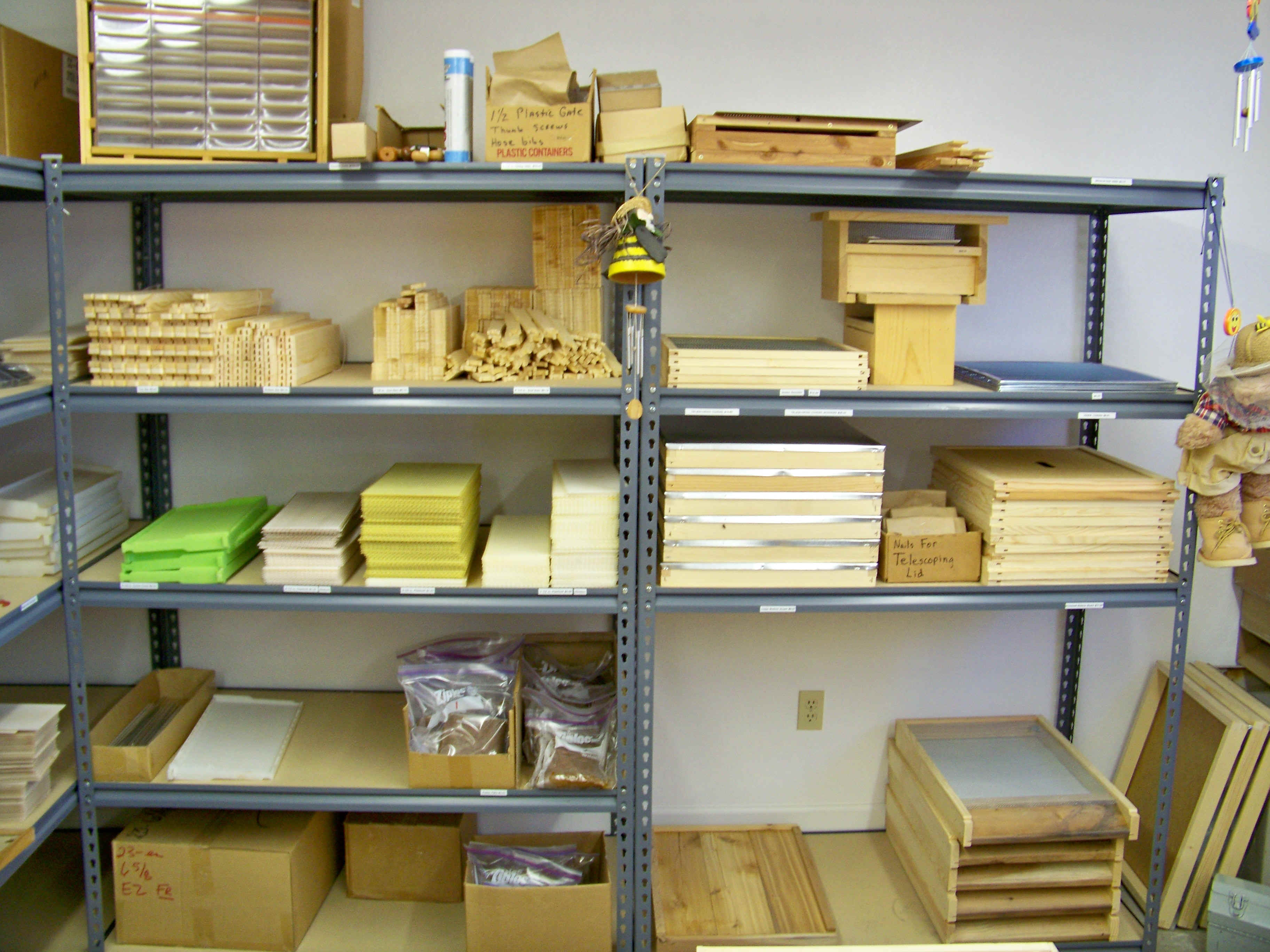 We carry a full line of quality Dadant beekeeping supplies. You can purchase your equipment, unassembled or assembled. Don't forget to get your medication for American Foulbrood, Varroa Mites and Tracheal Mites. We try to have on hand anything you might need and will order anything not on hand. We do ship to many of the outlying communities. Call for a price list and place your order or e-mail us at the address below.
Assembled Equipment
Our assembled equipment includes standard and western supers, frames with plasticell foundation, cedar migratory bottom boards, and telescoping covers.
Beekeeping Supplies
We carry every type of beekeeping supplies including bee suits, gloves, hive tools, veils, and smokers.
Honey Containers
Queenline glass honey jars, plastic honey containers, honey bears and 1 and 5 gallon plastic pails.
Comb Honey Supplies
If your looking for Ross Rounds , Half Comb, or cut comb honey supplies we have them all.
Foundation
We have all sizes of foundation from 8 1/2, 6 1/2, 5 5/8, and 4 3/4 in crimp wired no hook and with hook, duragilt, plasticell, medium broad and thin surplus.
Wood ware
We carry all your wood ware needs from frames, supers, bottom boards, inner covers and top covers.
Extracting Equipment
We stock a limited amount of extracting equipment but can order anything you need in the way of extractors, honey tanks, pumps and other items. We stock capping knives electric and non-electric and honey filtering systems.
Medications
You can find medication for all bee treatments including Apistan strips, Fumigilinl B, Fumigator, Menthol, Mite-away, Apiguard, Tylan and Terramycin.
Pricing
All prices are subject to change as our suppliers will adjust some prices throughout the year.

Most of our price adjustments will be made in Feb. as we get new prices from our suppliers.
Equipment Price List
Send mail or requests to taccon105@icehouse.net with questions or comments about supplies or this web site.
Medications
| | |
| --- | --- |
| Apiguard 1 ea | $4.16 |
| Apiguard C/10 | $43.33 |
| Apiquard Tub 3 KG | $126.70 |
| Apistan strips, ea | $2.55 |
| Amino B Booster | $29.33 |
| Fumidil B 1/2 gram | $25.90 |
| Fumidil B 2 gram | $59.85 |
| Fumidil B 9 1/2 gram | $204.33 |
| Fumigator 1# | $19.53 |
| Honey Bee Healthy Pint | $29.05 |
| Menthol Bags | $5.25 |
| Mite Away Quick Strip | $4.75 |
| Tetra-Bee Mix per # | $2.31 |
| Tetra-Bee Mix 10# | $26.53 |
| Tetra-Bee Mix 50# | $111.93 |
| Tetra-Bee Mix 2 # Shaker Can | $13.93 |
| Tylan-Soluble, 100 Gram | $59.50 |
Equipment
Bee Brush, ea
$5.39
Bee Escape, ea
$3.15
Bee Escape, conical
$27.93
Bee Go, pint
$21.28
Bee Go, gal
$116.13
Bellows
$15.68
Brood Builder

Original 25#
$39.90
Brood Builder Original 5#
$13.78
Brood Builder per Hive 1#
$3.75
Capping Scratcher
$9.10
Capping Scratcher Stainless
$16.73
Conical Bee Escapes C/10
$10.50
Embedder: elect.
$54.53
Embedder: spur, ea
$5.53
Embedder, grooved spur
$6.93
Eyelets: Brass, pkg/1000
$9.10
Eyelets: Brass, pkg/5000
$39.13
Eyelet punch
$2.05
Feeder, Entrance
$5.25
Feeder, Entrance Feeder Caps only
$0.83
Feeder, Division Board (ML)
$5.00
Feeder cap and ladder 9 5/8 Hive
$3.50
Feeder, Division Board w/ladder assy
$8.01
Feeder, Division Board 6 5/8 Hive ML
$5.65
Feeder cap and ladder 6 5/8 Hive
$2.36
Feeder, Division Board 6 5/8 w/ladder
$7.45
Feeder, Clips (ML)
$0.15
Feeder Cap and ladder (ML)
$3.50
Fischer's Bee Quick 1 pint
$20.30
Frame Cleaner
$3.60
Frame Fixer
$0.35
Frame Grip, ea
$23.73
Frame Grip Round Handle
$11.13
Frame Holder
$33.32
Frame Spaces, 9-frame (C100)
$9.20
Frame Spacing Tool
$22.33
Fume Pads, ea
$16.73
Gasket, Drum 55 gal
$0.91
Gloves, leather ventilated Light Duty
$14.63

Gloves, Leather Ventilated Heavy Duty

$26.53
Grease-Food Approved 4oz tube
$14.63
Grease-Food Approved-gun tube
$11.90
Helmet, Plastic ventilated. ea
$13.30
Helmet, Ventilated Woven Sun

$23.73
Hive Tool economy-yellow
$5.53
Hive Tool, 10" ea Red
$9.73
Hive Tool, Maxant
$16.73
Honey Dipper Hardwood
$1.99
Honey Labels Small (250)
$8.33
Honey Labels large (250)
$14.70
Lid Remover
$10.85
Mega Bee Patties-1#
$3.72
Mega Bee Patties 40#
$83.30
Nails, per # , 3/4
$1.80
Nails, per #, 4d, 1 1/4"
$1.95
Nails, per #, 7d
$1.50
Pollen Trap-Sundance II
$79.73
Pollen Trap-Front
$47.53
Pollen Trap -Red
$56.00
Propolis Trap
$9.73
Rabbets, L-shaped, ea
$0.22
Rabbets, old style
$0.32
Smoker, Domed
$30.73
Smoker, 4x7" SS w/o Shield
$43.05
Smokers, 4x7" s/s w/shield
$52.99
Smokers, 4x10" s/s w/shield
$55.02
Staples, Hive

#
$5.95
Support pins (200)
$17.50
Suit, Coveralls W/zipper veil S,M,L, XL
$93.73
Suit, Coveralls W/zipper veil XXL
$97.93
Suit, Hooded Zipper Veil
$104.30
Suit, Jacket Hooded Veil
$74.13
Suit, Hat Veil combo
$92.33
Jacket Hat Veil Combo
$75.53
Child's Hat-Veil Combo Suit 10-12
$75.53
Child's Hat-Veil Combo Jacket
$75.53
Child's Two-Piece Suit Age 6
$125.93
Veil, Folding
$20.51
Veil, Folding Childs
$20.51
Veil, Zipper
$20.16
Hat Veil pullover combo
$27.93
Wedge, Metal

each
$0.07
Wedge, Metal 1#
$3.29
Wedge, Metal 5#
$16.43
Wedge, Metal 50#
$139.86
Wire Crimper
$5.25
Wire Frame, roll 1/2#, 700'
$5.95
Wire Frame, roll 1#, 1400'
$9.09
Wire Frame, roll 5#, 7000'
$37.10
Containers
Honey Bears, 2oz case 50
$26.53
Honey Bears, 2oz ea
$.53
Honey Bears, 2# (doz)
$14.44
Honey Bears 2 # (100)
$120.33
Honey Bears, 12oz

(doz)
$6.18
Honey Bears, 12 oz (250)
$128.73
8oz

Queenline cs/24
$18.70
1#

Queenline cs/24
$22.27
2#

Queenline cs/12
$16.24
4#

Queenline cs/6
$15.58
1#

Plastic

cs/24
$15.34
2 1/2#

Plastic

cs/6
$7.76
1gal

Plastic pail w/lid 12#
$2.58
5gal

Plastic pail w/lid 60#
$6.71
3# Honey Jug W/cap
$0.81
5# Honey Jug W/cap
$1.04
Extracting Equipment
| | |
| --- | --- |
| Extractor: 2 Frame Jr Bench | $421.44 |
| Extractor: 4 Frame Little Wonder Hand | $565.06 |
| Extractor: 4 Frame Little Wonder Power | $941.19 |
| Extractor: SS imported 2 frame | $259.35 |
| Extractor:2 fr Junior Bench Kit | $721.50 |
| Filter Bag for Strainer Bucket | $3.85 |
| Honey Gate, Plastic 1 1/2" | $16.79 |
| Honey Gate Thumb Screws | $0.49 |
| Uncapping Tub, Clear Plastic | $142.73 |
| Uncapping Knife, elect. speed king | $133.70 |
| Uncapping Knife, non-electric | $46.13 |
| Knife, Serrated Uncapping | $32.13 |
| Strainer Bucket | $52.50 |
| SS Double Sieve | $59.50 |
| Pail Holder | $28.77 |
| 5 Gallon Plastic Pail w/gate | $37.73 |
| Bottling Bucket filter 200-600 micron | $7.70 |
| Bottling Bucket Kit | $41.18 |
Beekeeping Books
| | |
| --- | --- |
| First Lessons in Beekeeping, ea | $12.53 |
| The Hive and the Honey Bee, ea. | $37.80 |
| Honey in the Comb | $14.70 |
| Honey Bee Diseases and Pests | $12.53 |
| The Classroom | $16.73 |
| Contemporary Queen Rearing | $17.50 |
| Honey Bee Life Cycle Chart | $20.51 |
| Honey Kitchen Cookbook | $11.97 |
| Nature's Golden Cook Book | $18.97 |
| Joy with Honey-Cookbook | $22.33 |
| Putting it up with Honey | $19.53 |
| Making Mead | $13.30 |
| Super Formulas | $23.73 |
| Coloring Book | $0.49 |
| Candles, Naturally | $11.12 |
| Beeswax Crafts Book | $24.50 |
| The Beekeepers Handbook | $38.50 |
| The Candlemaker's Companion | $27.93 |
| Wick, Wax, and Talk | $4.13 |
| Basic Steps to Candles | $9.73 |
Creamed Honey
| | |
| --- | --- |
| Creamed Honey Kit | $82.93 |
| Labels for Creamed Honey | $4.34 |
| Starter for Creamed Honey Natural | $4.90 |
| C/25 containers | $13.30 |
Square Split Section Comb Honey
4 3/4 Comb Honey Super
$13.93
Square Split Section Kit Complete
$32.20
Beeway Split Sections C/100
$50.05
Beeway Split Sections C/500
$222.6
Split Section Device
$5.88
Separators C/10
$14.14
Separators C/100
$94.36
Section Holders C/10
$12.95
Section Holders

C/100
$100.73
Metal Rests, Punched C/10
$4.06
Metal Rests, Punched C/100
$27.30
Ross Round Comb Honey
| | |
| --- | --- |
| Ross Round Super | $97.93 |
| Frames | $3.15 |
| Frames case 18 | $56.75 |
| Rings ea | $.12 |
| Rings case 400 | $46.20 |
| Covers each | $.21 |
| Covers Case 400 | $84.70 |
| Labels each | $.13 |
| Labels Roll 100 | $18.13 |
Cut Comb Honey
| | |
| --- | --- |
| Cut Comb Boxes C/100 | $135.73 |
| Cut Comb Boxes Each | $1.36 |
| Cut Comb Boxes Econ 50ea | $17.78 |
| Cut Comb Boxes Econ ea | $.35 |
| Comb Honey Cutter S/S | $14.70 |
| Section Knife | $17.50 |
| Comb Slicing Pan | $28.00 |
Square Section Comb Honey
4 3/4 Comb Honey Super
$12.10
Square Split Section Kit Complete
$31.63
Beeway Split Sections C/100
$49.16
Beeway Split Sections C/500
$218.63
Split Section Device
$5.78
Separators C/10
$13.89
Separators C/100
$92.68
Section Holders C/10
$12.72
Section Holders

C/100
$98.93
Metal Rests, Punched C/10
$3.99
Metal Rests, Punched C/100
$26.81
Foundation Price List
Type/size
Sheets per
Price per

Price per

Duragilt

#
Sheet
25 # case
8 1/2"
6
$1.46
$219.54
6 5/8"
7
$1.00
$175.56
5 5/8"
9
$0.99
$221.76
4 3/4"
11
$0.96
$263.65
Crimp wire-with or w/o hooks
8 1/8"
7
$1.25
$219.40
8 1/2"
7
$1.25
$219.40
6 1/2"
9
$0.79
$178.52
5 5/8"
11
$0.81
$223.31
4 3/4"
12
$0.74
$223.31
Medium Brood
8 1/2"
7
$1.18
$206.61
6 1/2"
8
$0.96
$191.88
5 5/8"
9
$0.99
$221.73
4 3/4"
13
$0.68
$219.43
4 3/8"
15
$0.59
$219.43
Thin Surplus
Ea.
5 # Case
5 5/8"
16
$0.60
$48.15
5 1/4"
17
$0.57
$48.15
4 3/4"
18
$0.54
$48.15
4 3/8"
24
$0.48
$48.15
4 1/8"
25
$0.39
$48.15
3 7/8" Comb Honey
28
$0.34
$48.15
Small Cell (25#)
4.9 Plan 8 1/2
7
$1.45
4.9 Wired 8 1/2
7
$1.56
5.1 Wired 8 1/2
7
$1.23
Plasticell(100 sheets per case)
Ea.
Case
8 3/8"
$1.31
$131.40
6 1/2"
$1.28
$128.48
5 1/2"
$1.11
$110.96
EZ Frames
Ea.
9 1/8 Coated EZ Frame
$3.02
6 5/8 Coated EZ Frames
$2.58
9 1/8 Drone Comb
$3.81
Colored Candle Wax And Candle Making Supplies
8"

Colored Candle Wax

$1.44
Candle Wicking/yard
$0.40
Candle Wicking/100 yard roll
$18.83
Bulk Bee's Wax per #
$6.00
Woodware
Assembled Hive Bodies with frames and
plasticell foundation

9 5/8 standard 10 Frame
$50.00

6 5/8 Western 10 Frame

$41.75

9 5/8 standard 8 Frame
$42.71

6 5/8 Western 8 Frame

$35.12
Frames with Plasticel Foundation
9 1/8
$2.78
6 1/4
$2.51
Hive Bodies/supers, ea

9 5/8"
7 5/8"
6 5/8"
5 11/16"
Hive Bodies/supers, ea

Commercial grade 10 Frame
$14.30
$12.41
$10.23
$9.15

Commercial grade 8 Frame
$14.30
$12.41
$10.23
$9.15
Covers, ea

Metal, telescoping
10 Fr
8 Fr
w/inner cover

$32.33
$32.33
w/o inner cover

$22.35
$22.35
migratory, wood
$8.51
Inner covers, ea
$10.64
Bottoms, ea
10 fr

8 fr

Migratory, cedar
$10.52
10.52

Leo Screen Bottom Board
$25.66
$25.66
Misc. Wood Ware
Excluders, wood bound ea
$13.05
Excluders, Metal Bound ea
$5.55
Excluders, Plastic
$4.20
Metal (folded tin)
$8.33
Nuc Box, 5 frame complete
$25.00

Rims for Mite away and Apiguard
$3.96
Frames
9 1/8"
7 1/4"
6 1/4"
5 3/8"

Complete w/wedge or groved

top bar, slotted, grooved or

solid top bar
$1.12
$1.12
$1.05
$0.98

End Bars,cs/100
$15.95
$15.95
$13.58
$10.62

End Bars each
$0.16
$0.16
$0.14
$0.11

Bottom Bars cs/100
each
cs/100

slotted, grooved, solid

shouldered
$0.22
$21.72

Top Bars cs/100
each
cs/100

Wedged Top Bar

$0.49

$

48.54

Groved Top Bar
$0.49

$

48.54